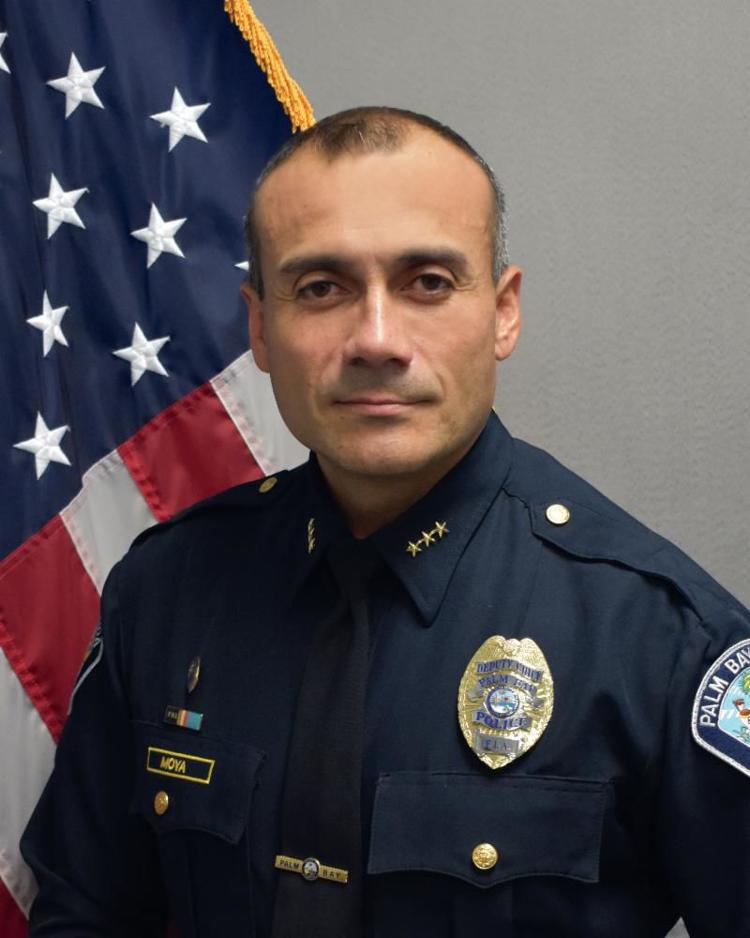 UPDATE FROM THE CITY OF PALM BAY- The City of Palm Bay is pleased to announce the selection of Nelson Moya as Palm Bay's new Chief of Police. Chief Moya's service with the City will begin immediately, with a formal swearing-in ceremony scheduled for August 13th at 7pm in Council Chambers.
"I look forward to his new direction that encompasses all the aspects of collaborating with all City departments, leading the Palm Bay Police Department with progressive growth and advancement of our team serving in all capacities. Chief Moya has a sincere passion for protecting and serving our community in crime prevention and crime fighting, as well as building relationship connections with integrity and positive impact," said City Manager Lisa Morrell.
Chief Moya has served the community of Palm Bay for over 28 years. He began his law enforcement career with the Palm Bay Police Department in 1991 and has worked in a multitude of capacities with the agency, rising to the rank of Deputy Chief in 2017. Previously, Moya was an integral part of the command staff serving as Commander and supporting the Department under the direction of three former Palm Bay Police Chiefs.
Moya is a graduate of Barry University where he earned his Bachelor of Science degree in Administration. He also attended the Florida Department of Law Enforcement's Leadership Academy, Florida State University's Certified Public Manager Program, The FBI Executive Development Seminar, The Southern Police Institute's Command Officer's Development Course, and the FBI National Academy. Moya has professional affiliations with the International Association of Chiefs of Police, the Florida Police Chiefs Association, the FBI National Academy Associates, and the Brevard County Association of Chiefs of Police, where he serves as Vice President.
"I am confident that Chief Moya's extensive experience, history with the agency, proven leadership ability, and commitment to community relations make him the ideal leader for the Palm Bay Police Department," said City Manager Lisa Morrell.
Chief Moya was selected to be Palm Bay's new Police Chief following an extensive search. The City of Palm Bay narrowed a list of over 50 applicants down to six candidates through a process that included interviews, examinations, and input from outside consultants. Following a final round of interviews, the top three finalists were invited back for a public meet and greet at City Hall where they had the opportunity to speak with staff and residents and to share their vision for the future of the Palm Bay Police Department.
"Having worked for the Palm Bay Police Department since I was 19 years old, I have seen a great evolution and growth within the agency. I am honored and humbled to be given the opportunity to lead the talented sworn and civilian members of the department as we work to provide exceptional public safety service to the City of Palm Bay," said Chief Moya.
PALM BAY – A "Meet and Greet" was held on July 31 at Palm Bay City Hall, allowing community members to become acquainted with the top candidates for their new Palm Bay Chief of Police. The position opened in April, when former Chief Jim Rogers retired after 30 years of service.
The event was open to the public and presented three of an original pool of 59 hopefuls. Each of the top three candidates bring their own set of qualifications to the table and a unique approach. They were introduced by Palm Bay City Manager Lisa Morrell.
Though Ms. Morrell has the final say in the decision, she has been considering feedback from several other city and county officials, who have been conducting the interviews with her. She said they all share a general vision of what they are looking for and believe is best for the city.
"The police chief reports directly to the city manager. So, for me, it's all about honesty and integrity. It's all about what my goals are for our city, which are hands-on management, leadership, a lot of internal collaboration between all of our department heads, taking care of our employees, and gold-star customer service to our citizens," said Ms. Morrell.
The top three candidates for the position are: Andy Harvey, the chief of the Palestine Police Department in Texas; Nelson Moya, the current acting chief of the Palm Bay Police Department; and Elias Vazquez, the assistant chief of the Tampa Police Department.
Mr. Harvey, who would have to relocate from Texas, said he would be a natural fit for the position. He said his Hispanic background could serve as a bridge to connect with the large Hispanic population of Florida, and that his career experience in his hometown would be easy to transition to Palm Bay.
"[Palestine] is smaller than [Palm Bay], but we've become a very community-minded engaged police department and been able to lift the city up there, so I'm really proud of the work we've done there," said Mr. Harvey. "I think I'd be a good fit here because I know how to relate to people, I understand community, and I understand what that looks like and what it takes to have a modern community-engaged police department. I know how to do that, I've done that before, and I know I can continue that here."
Mr. Vazquez, who is also of Hispanic descent and experienced in the field, said he did a lot of research when he heard about the open position and that he liked what he found about Palm Bay.
"This is a great department. I don't have to fix it. I just want to make it better," said the assistant chief. "I want to have great relationships with the community and build on that public trust that's there."
His philosophy is that without relationships "nobody gets anywhere," and wants to use the community's direct input to improve the department.
"It's a mindset that you have to put in the officers, that all of us are here to service and serve the community, and we have to include them in our decision and get their input," said Mr. Vazquez. "We don't want to tell the community how they should be policed. We have them tell us what they want us to do as a police department. That's how I think, and that's what I want to bring in."
While Mr. Harvey and Mr. Vazquez both received a lot of attention from community representatives and curious citizens wanting to learn more about them, there was a clear and strong support for a particular candidate in the room.
Mr. Moya has been with the Palm Bay Police Department since 1991. He said he "grew up in the organization." He has been serving as the interim chief since April and said he has established relationships with several members of the public and most of the police force, including the former chief, who he called not only a friend but a "mentor."
When asked about his chances to land the position, Mr. Moya said that he has felt a strong support from the community and the agency, and while he recognized his competition's abilities at this stage of the process, he exuded confidence in his own.
"I can guarantee that what I bring to this is quality experience based on a very engaging community and on employees that are second to none," said acting chief Moya.
Mr. Moya was approached by the former chief, who came to greet him with a hug. Mr. Rogers said he has known Mr. Moya for 30 years and expressed his full support for him as acting and permanent Chief of Police.
"I've grown up with him in the organization. I know from firsthand experience that he is vested in the community – the community is really important to him," said Mr. Rogers, who now sports a full beard.
Mr. Rogers also said how impressed he is with the quality of work and commitment from Mr. Moya since he took the position. He said that Mr. Moya "has done an outstanding job in changing the culture of the organization to match 21st century policing and in terms of prolific crime fighting," which he said brought crime down in Palm Bay.
"And that's what it's about: to make a safe community. I know that's where his heart's at – his heart's at making this community safer for people to live, grow and work," said Mr. Rogers.
The implications to consider when filling such an important role are many and heavy. The position is long-term and essential to the future of Palm Bay. Ms. Morrell said that, thus, she is not taking this responsibility lightly and is taking her time.
"I hope I have my decision by tomorrow or the end of the week," said Ms. Morrell. "I think the process has been a little long."
Ms. Morrell said there is still a lot of deliberating to do, as she understands the weight of her decision and what it means to the city.
"How many times do you get to pick a police chief in your career? It's a big decision," said Ms. Morrell.
We will update when the chosen candidate has accepted the position.