WEST MELBOURNE – On a brilliantly sunny December afternoon, Andrea D'Angelo and Scott Traynor were discussing the early success of Lasting Décor.
"Our goal is to provide quality, re-purposed items that have been used in the past, but still have a lot of use left," said Ms. D'Angelo, who co-owns the store with Mr. Traynor. Lasting Décor opened in early November. "We do have new items and new handcrafted goods, but our goal is to provide refurbished furniture and home décor. There is no reason to be wasteful."
"By selling quality re-purposed furniture, we are reducing our carbon footprint and trying to appeal to a wide variety of customers," said Mr. Traynor. "There is something here for everyone."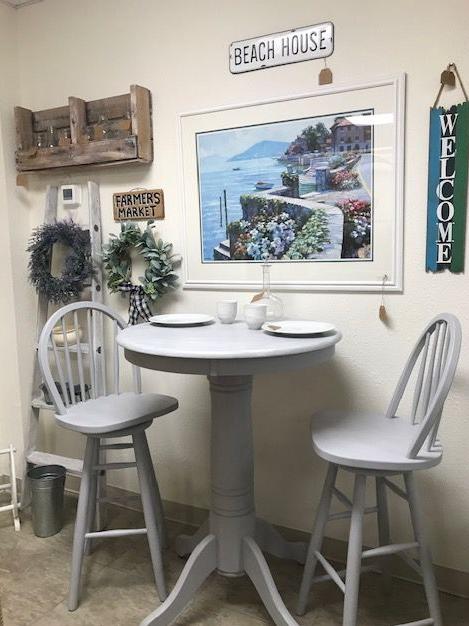 Mr. Traynor showed off several of his own handcrafted items, including industrial-style lamps and pipe lamps. He re-purposed old household piping, vintage industrial piping and pressure gauges to create practical, functional lighting fixtures.
Lasting Décor is filled with many other examples of unique and fully-functional items and furniture.
Ms. D'Angelo and Mr. Traynor showed how they painstakingly transformed a blonde oak wood table - once damaged by hairline scratches and water marks - into a unique piece by using a combination of grey chalk paint, white chalk paint, and various clear and black waxes. The two used a similar technique to give a vintage mahogany half-moon table a more contemporary appearance. The waxes brought out the beauty of the pieces as well as enhancing their durability.
The store owners have more than a decade of experience creating this type of furniture.
"Our store is new but this is by no means a new venture for us," Ms. D'Angelo said. "We have been doing this for years. We have had booths in the past, at other marketplace establishments, and been quite successful doing that."
Ms. D'Angelo and Mr. Traynor said they soon would be offering workshops at Lasting Décor, sharing their unique methods with the public.
Lasting Decor is located at 3257 West New Haven Ave. in West Melbourne. Lasting Decor is West Melbourne's marketplace for handcrafted home decor, featuring vintage, coastal, industrial and farmhouse items. Hours are 10 a.m. to 5 p.m. Tuesday-Saturday; 11 a.m. to 3 p.m. Sunday; Closed Mondays.